Welcome
Apollo: Youth in Medicine
Apollo: Youth in Medicine is a unique student-led program that helps provide insight into the physician career path to interested high school students. The organization provides an opportunity for students to increase their knowledge, to network with their peers and medical professionals, and to shadow physicians of different specialties as they explore medicine as a potential career. 
Apollo is student-founded and wholly student-led by a dedicated and passionate team of high schoolers based in Delaware. Collaborative support is provided by the Delaware Youth Leadership Network (DYLN) and Medical Society of Delaware (MSD). Interested students, physicians, and school administrators can contact us via email at apolloYIMde@gmail.com.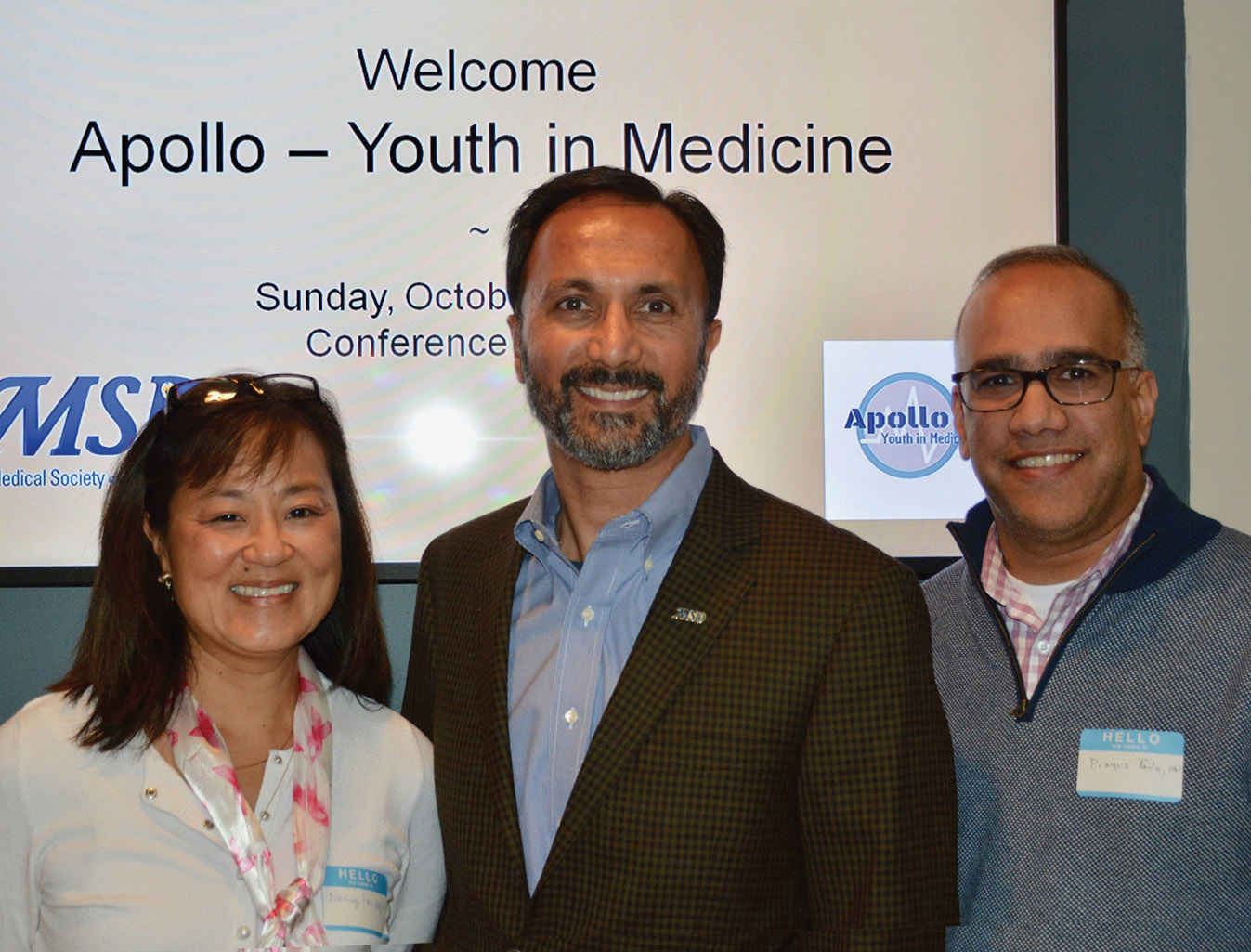 About Apollo: Youth in Medicine
Apollo: Youth in Medicine is a program that provides physician shadowing and educational opportunities for high school students. Apollo was founded in the summer of 2018 by three students and community leaders as a partnership between the Delaware Youth Leadership Program (DYLN) and the Medical Society of Delaware (MSD).
The goal of Apollo is to reduce barriers for high school students as they seek to explore their interest in the medical field. Apollo helps expose high school students to the medical profession through three opportunities: physician shadowing, educational sessions, and Enhanced Experiences.
Apollo is open to any student attending high school in Delaware currently in their junior or senior year. An application and some forms (parental consent, school approval) are required.
The breadth of student choice is based on the number of shadow slots that the Apollo physicians can offer each session. Once admitted to the program, a student can continue to participate in any session thereafter until (& including) the summer after high school graduation. Good citizenship (both in and out of the program) and good school status are required to continue each year. Please email apolloYIMde@gmail.com for information about applying.
Physician Apollo mentors volunteer to host our students and are the key to the students' experience. Some physicians volunteer to give the lectures at the educational sessions and some host groups students in their office or facility for Enhanced Experiences, like cadaver dissection and lab tours. Physicians showing interest and with an active license practicing in Delaware can volunteer to host a student. Please email rkahlon@fsortho.com or apolloYIMde@gmail.com for information about becoming an Apollo physician.
Apollo was founded in 2018 by Co-Founders Sean Holly (St Elizabeth Class of 2019), Arjan Kahlon (Charter School of Wilmington Class of 2022), & John Kepley (St Elizabeth Class of 2020). They were joined and supported by Founding Organizations – the Delaware Youth Leadership Network (DYLN) and the Medical Society of Delaware (MSD). The team was further strengthened by the addition of St. Elizabeth High School counselor Shannon Beck that first year. 
This team leadership started working in the summer of 2018 and Apollo: Youth in Medicine launched its inaugural Fall 2019 shadow sessions by November 2018 which included 4 high schools and nearly 20 students. This was made possible by seed grant funding by the Delaware Medical Education Fund (DMEF).
After a successful kickoff, the Apollo team expanded to 4 different high schools for the Spring 2019 session and, with an eye to the future, added 2 additional Leadership Team members: Andrew McWilliams (Archmere Class of 2021) and Ruth Wilhelm (Padua Class of 2021).
The final session of the 2018-19 academic year was the Summer 2019 session. The inaugural year of Apollo: Youth In Medicine showed both proof of concept and a community need for the project. After the successful inaugural year, the program has grown beyond northern Delaware with the intent of becoming the nation's first state-wide high school physician shadowing program. The DMEF continues to provide grant monies to grow the program for the youth of Delaware.
The 2019-2020 school year brought both opportunities for growth and additional challenges. Apollo welcomed an additional 50 students from 19 schools. We expanded South to Dover and presented at a DIMER Board Meeting. However, our last 3 days of Spring Shadowing in March 2020 were cancelled due to the COVID-19 Pandemic. We quickly pivoted and planned a 4-week virtual educational session for Summer 2020. This "Apollo at Home: Summer Seminar" included 4 Monday Meetups with Physicians and 4 Wednesday Webinars.
While we hope to return to in-person physician shadowing in the summer, our 2020-2021 session includes an exclusive virtual experience featuring immersive activities with a diverse pool of medical professionals. 
Apollo Leadership Team
The Apollo leadership team is led by several focused & resourceful students who are firmly supported by the Delaware Youth Leadership Network (DYLN) and the Medical Society of Delaware (MSD). The team is further strengthened by the engagement of St. Elizabeth's counselor Shannon Beck.
Together this team supports and coordinates the Apollo Students and their high schools and participating Apollo Physician Mentors.