Apollo Youth In Medicine Connecting with-an-Expert-on-Covid-19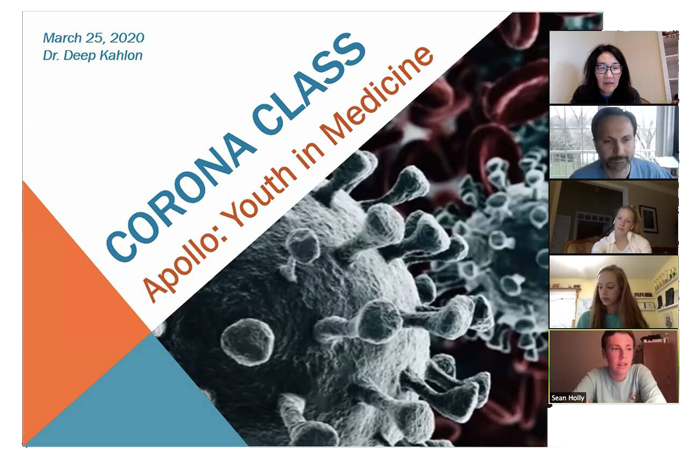 My name is Ruth Wilhelm (DYLN '20) and about a year ago, I applied to become a Student Leader with Apollo: Youth in Medicine. Initially, I was interested in the physician shadowing aspect of the program, but also valued the opportunity to develop my leadership skills. I knew this program would challenge me to be a creative problem-solver. However, one challenge I did not foresee was the COVID-19 pandemic. This outbreak disrupted the last two days of Apollo's 2020 Spring Shadowing Session, which we had been planning since the summer. This was disappointing for students, physicians, and the team. 
We handled that disappointment amidst the many adjustments to virtual learning, working from home, and social distancing. With added time on student's hands, we saw a unique opportunity to offer additional opportunities to learn about healthcare.
Dr. Kahlon, the physician on the Apollo Team, had the idea to host Zoom call classes. The idea was for Dr. Kahlon to give a presentation and answer questions about a relevant topic that students would be eager to hear about. We decided to name the Zoom calls "Corona Classes" and have hosted two so far. At our first call, Dr. Kahlon discussed the virus in general. By the third week of statewide quarantine, we decided that students were being inundated with enough information about the pandemic.
We pivoted to focus the next presentation more on technological advancements healthcare professionals use in the fight against COVID-19. We hope these calls serve to fill students' newfound free time with educational and engaging learning. As a student interested in the healthcare field, I enjoy attending these calls myself and hope all participants feel the same!